Direct Entry Admission Generally Guide– EVERYTHING YOU NEED TO KNOW ABOUT HOW YOU CAN GAIN ADMSSION INTO ANY NIGERIAN UNIVERSITY USING THE DIRECT ENTRY MODE.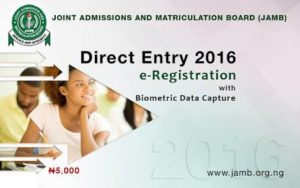 What is the meaning of Direct Entry?
Direct entry is a style of entry into any Nigerian university straight to 200/300level. Typically, when you obtain the unified tertiary matriculation examination form and sit for the examination, you can only gain admission into 100level in any Nigerian university, but if you decide to get the direct entry form and you eventually meet the basic admission requirement, you will gain admission into that university of your choice and you will begin from 200/300level. This strictly depends on the entry credentials you used to gain admission.
Who can apply for Direct Entry Admission 
Not all and sundry can apply for direct entry admission into university. Applying for direct entry is based on your choice of entry into that dream university of yours. Furthermore, direct entry admission into any Nigerian institution of higher education is for applicants who already had a supplementary certificate in combination to their secondary school O'Level. The proposition of this is that, if you are an O'Level holder devoid of any extra certificate, direct entry is not for you.
Which universities accept Direct Entry application?
All universities in Nigeria are logically destined to accept direct entry application from Nigerian students and offer them admission into year 2 or 3. Nevertheless, it is possible that some universities might no longer be interested in accepting direct entry students. For now, about 98% of all Nigerian Federal, State and Private Universities still accept direct entry students.
Am I to tender my academic transcript to my university as a Direct Entry student?
The reality is that universities in Nigeria have varied principles and requirements when it comes to submission of academic transcripts as a direct entry applicant for your admission processing. Institutions such as University of Ilorin, Usman Danfodio University, Kwara state university, Ahmadu Bello University and many others does not necessitate you to submit transcript as a direct entry applicant. While universities like Obafemi Awolowo University and few others requires it. Consequently, in order for you to be confident of what to do, when the post utme date of your preferred institution is out, the university will emphatically state it that you should present your academic transcripts to a particular address inside the school. In case your school is unspoken about this, then you don't need to worry or submit any academic transcript.
Do I need to go to my university of choice to obtain the Direct Entry form?
You do not need to bother yourself by going to any university before you obtain their direct entry form. Just get it from JAMB office or any of the selected banks that sells it, and then fill it online. Afterward, submit your certificate to Jamb office. Without submitting your direct entry form, Jamb will surely not work on your admission.
What are the courses offered in Direct Entry admission mode?
All the courses offered in UTME are also obtainable in direct entry. You can apply for any of the courses in any department/faculty of your choice.
Is the Direct Entry form available?
According to researches, the direct entry form is always out around March to April every year and closes around July to August. The best time to look out for the direct entry form is immediately when the UTME result has been released. On the other hand, the Joint admission and matriculation board (JAMB) has officially announced that this year direct entry registration will commence from Sunday 23rd April, 2017.
What do I need to know to be able to effectively apply for 2017 Direct Entry admission?
Registration fee for the 2017 direct entry form is 5,000. Applicants are also, as common, to pay 500 only to obtain the reading text "The Last Days at Forcados High School" for direct entry candidates.
Candidates must note that e-PINS being purchased are coupled to individual profile and are not moveable.
Candidates are advised to maintain as private their safety details such as registration numbers, password/numbers of ATM cards, email addresses and E-Pins
Each aspirant must personally create a JAMB profile on the JAMB portal through JAMB mobile app available on android, windows and ios platform or on the JAMB portal www.jamb.org.ng
(Name, date of birth, personal email addresses and place of origin are the basic requirement to create the profile).
Each candidate is to collect his e-slip at the conclusion of registration as proof of registration.
As it is the practice, centres area allowed to charge not more than 700 only as for the registration. Any centre that charges more than 700 should be reported immediately to JAMB for suitable sanctions.
How to apply for the Direct Entry admission
Purchase the JAMB direct entry form (from JAMB offices or participating banks).
Visit any permitted JAMB registration centre to register.
Present the print out with all academic credentials in an envelope to the nearby JAMB office.
Now, keep an eye on when your university will call for any entrance examination. Although, institutions like ABU, Zaria and University of Ibadan do not conduct entrance examination
Wait for admission list from the school that you applied to.
When will Direct Entry form close?
According to JAMB, the closing date is not yet specified but from researches , it is liable to seal by July or early August.
What is the fundamental admission requirement for Direct Entry applicants in Nigerian Institutions?
It is a well known fact that the difference between the Nigerian unified tertiary matriculation examination admission mode and the direct entry mode is that the direct entry mode gives you automatic admission to 200/300level of your respective degree programme. The following basic qualifications are needed for any direct entry aspirant:
-Ordinary National Diploma Certificate (OND)
-Higher National Diploma Certificate (HND)
-GCE A Level, HSC, DALF Certificate
-An acceptable Baccalaureate Certificate
-NCE
–IJMB
-Institute of chartered accountants of Nigeria (ICAN) or equivalents of these from accredited Polytechnics and colleges of education.
NB:  Only students whose cumulative grade point average (CGPA) meets the qualification for the proposed course of learning will be considered for the direct entry admission.
In general, candidates who gain admission into the university through direct entry begin from 200level except for a few departments/courses in some institutions that insist that direct entry students must start from year one. Candidates who have any of the above requirements and wish to gain admission into a university degree programme through direct entry mode are to wait unwearyingly for the commencement of sale of forms by JAMB.  In synopsis, to gain admission through the direct entry mode:
1.  You must be eligible to apply.
2.  You must be informed and updated to know the exact date that the registration will begin.
3.  Decide on the best institution to choose based on their requirements.
4.  Apply through JAMB first.
5.  While registering, select your choice school, department and faculty correctly.
6.  Wait for your choice institution post direct entry screening.
7.  Pass the screening and wait for the direct entry admission list.
8.  Matriculate with 100level students.
9.  Candidates are to note that irrespective of their choice of course of study or method of testing, they will also be tested on a general test "The Last Days at Forcados High School" by A.H. Mohammed for direct entry candidates.
JAMB DIRECT ENTRY GENERAL REQUIREMENTS FOR ALL NIGERIAN INSTITUTIONS
A minimum of 5 GCE/WASCE credits at not more than 2 sittings with at least 2 principal or advanced level G.C.E and the others.
2 passes at the IJMB advanced level examination, Cambridge moderated schools of basic studies terminal examination, JUPEB or Institute of Baccalaureate from recognized institutions with SSCE/GCE, NTS/NBC credits equivalent in 3 other subjects (subject to university requirement).
Passes in 2 major subjects in the NCE with SSCE, NTC/NBC credits or equivalents in 3 other subjects (mainly for educational courses) and national diploma. Education may be accepted as a third A' level subject for those taking courses in education.
Minimum of lower credit grade in National diploma or national innovation diploma including the O'Level requirement.
Candidates are to note that they will be required to provide their JAMB registration number which they used in gaining admission to NCE, Diploma etc for direct entry admission.
Read: Direct Entry  Latest News Here
But in case you still have questions to ask, you can kindly use the comment section or follow us on twitter and tweet @amas_nigeria and we will reply as soon as possible.