IJMB admission programme – Chech out the necessary iinformation on how you can secure admission into 200level without JAMB after nine months. LOW TUITION/ NO JAMB AND POST UTME – 07032375931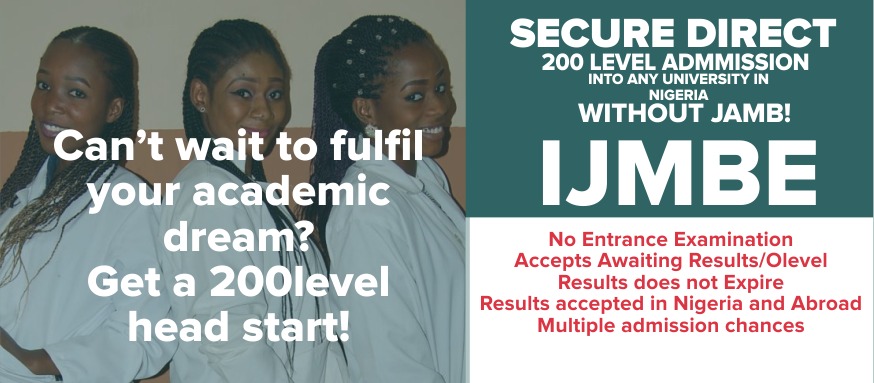 IJMB Admission Programme registration into 200lv without JAMB is ongoing. Are you  a Nigerian student, and you are tired of writing JAMB? or probably you have heard a lot of news about JAMB and you don't want to pass through the stress? AmasNigeria is bringing to you, Interim Joint Matriculation Board (IJMB)  programme. 
IJMB is a 9-11 months programme that qualifies students for admission into some Nigerian major Universities. With Interim Joint Matriculation Board programme, candidates can secure admission into their preferred University that accept the programme for direct admission.
We advice all prospective IJMB Students to read through the line of the information below carefully. If there is anything you don't understand, you can use the comment sec or tweet @amas_nigeria
IJMB Admission Programme (FULL DETAILS)
IJMB Means Interim Joint Matriculation Board. It is a programme Approved by the Nigeria University Commission (NUC) and a Proven Certified Advanced level programme moderated by Ahmadu Bello University with various coordinating body in different tertiary institutions and different study centres nationwide.
IJMB Admission Programme is specifically designed to provide an opportunity for candidates who cannot gain admission to regular degree programmes in Nigerian universities for one reason or the other, as the programme only requires candidates O'level results or awaiting result.
The programme is approved by the Federal Government as a platform for securing admission into higher institution in the country and abroad.
IJMB is a Proven programme that guarantees admission for her successful students Yearly. It is also worthy of note that about 25,000 applicants put in for the programme yearly in which more than 70% of them successfully secure admission with it into 200 level to their preferred institution and course.
IJMB ADMISSION PROGRAMME AND HOW IT WORKS
IJMB Admission programme requires Prospective IJMB candidates to select any THREE (3) A/L IJMB Subject Combination identified with their preferred course of study in the university be it Science, Art or Social Science Course.
Candidates would then be lectured for about 9-11 months at their respective Study Centre and thereafter sit for the final examination. On completion of the programme, successful candidates accordingly utilize their IJMB certificate to secure admission into 200level in about 80% of  Nigerian tertiary institution via Direct Entry.
IJMB Admission Programme LEGIBILITY:
IJMB certificate is presently recognised and accepted in more than 80% of Nigerian federal, state and private universities. Thus, prospective candidates can check (item 2.2) of JAMB BROCHURE to confirm IJMB legibility.
Also Read: list of Universities accepting IJMB Certificate here
PROGRAMME DURATION: IJMB A'level programme runs for a maximum period of one academic session (9-11 months) divided in two (2) semesters.
Though the lectures do start between March/April every year – the earlier the better for you to start the programme.
IJMB METHOD OF APPLICATION: 
IJMB Study centres are currently inviting applications from prospective candidates for IJMB 2018/2019 academic session. The only mode of application we recommend is for prospective candidates to register at the registration centre rather that making payment into an account.
Prospective students should note that we have not recommended any websites. Any link on this post that refer you to another website is solely for information purpose. We therefore implore students to note that they should only visit their office for registration forms in order to avoid internet scam.

To register, candidates are required to follow the procedures below:
Registration for For IJMB programme can be done by following the registration procedures on www.ijmbguide.com
We have provided a detailed registration guide for prospective candidates.
Click here to see IJMB registration procedures
IJMB REGISTRATION: Before applying for IJMB programme, prospective candidate should have completed secondary school education.
DISCLAIMER: Kindly be informed that AmasNigeria has no connection with any agent. We are making this known to the public because there are many fraudulent websites and agents claiming to be registering IJMB candidates online. We therefore advice prospective students to only make payment or register through IJMB Guide because this is the only website we trust. Note that this is a recommendation.
Now that we know what IJMB is all about. Then who are we and why are we here?
This is AmasNigeria. We have been rendering educational services for some years now and we officially decided to come online this year (2017) in order to reach a wider audience.
Our major area of specialization is to provide necessary information for students who are seeking for admission either through JAMB, A/Level/D.E etc.
IJMB Admission Requirements
Before you can make use of your IJMB results there are primary requirement you are expected to have reached, which we think is no problem to you as a candidate. The primary requirement of anyone seeking to attend or register for IJMB programme is to have his O level result complete, or at least use awaiting result, but in an expectation that you are going to write your O level result while the program is going on, since you can't make use of it (the IJMB result) without having your O level result completed.
IJMB REQUIREMENT
*(a) five O/L credit passes as contain in jamb brochure.
*Awaiting result can also apply but O/L result must be available before University admission.
*O'Level Result (Max of 2 sittings)
*Four (10) Passport Photographs
*Certificate of State of origin (Optional)
Note that;
*No JAMB/PUTME score is needed for Admission
*Awaiting Result Candidate too can Apply
*A non-refundable form fee of #8,000 (which includes Registration & logistics) is to be payed.
How To Make Use Of Your IJMB Result
To use your IJMB result to gain admission into 200 Level, you need to visit JAMB website or their nearest office to obtain DE form (Direct Entry), fill them in correlation with your IJMB result, by then you have the opportunity to choose first and second choice university. Another interest thing is, you have the opportunity of choosing your course which will be determined by how many points you were able to obtain from the IJMB exam.
IJMB Year To Year Calendar
IJMB calendar starts by November every year and it ends by April for the registration of the following year. By March, while the registration is still going on, the lectures for the session will start, which is usually within the mid of March and early April.
Lectures Schedule 
In the absent of fixed lectures or excluding night classes (fixed classes by lecturers when the examination coming nearer) the lectures runs from Monday till Friday.
The total fees you will be paying through your IJMB programme in any centres is from N138,000 till you write your final examination. The payment includes Accommodation, acceptance and Tuition fees. This payment can also made on instalment.
Deadline: Application deadline is not stated .  Payment of acceptance and accommodation fee will begin thereafter.
Centre Availability
There are accredited centre in the following States
Kwara state, Ilorin
Lagos State, Ikeja
Oyo state, Ibadan
Abuja, Gwagwalada and Gwarinpa
Osun state, Ile Ife
Enugu State 
Rivers STATE. 
IMPORTANT LINKS:
Helplines: 07032375931 or 09098985275
You can make any enquiry by calling any of the phone numbers above.