The 2017/2018 NECO SSCE Results is out… Obviously, candidates will want to know the necessary procedures to follow in order to check their results.
As we have always and will always do here at AmasNigeria.com, we will give you the step by step procedures to follow in order to check you NECO Results without stress.
with our simply guide on how to check your NECO SSCE Results , you don't have to ask any other question elsewhere.
We implore you to share this post so that others can benefit from it . This is simply because in this post, we will addressing the issues checking your NECO SSCE Results .
The major issue now is that too many people accessing their NECO SSCE results page at once. Just wait for a while and try again the procedures below again.
How to Check Internal NECO SSCE Results 
Internal NECO is for folks who wrote the June July NECO. This guide will show you a step by step guide to checking your NECO June July Result (No Step skipped.)
Important: Confirm your Exam number before proceeding to the last step. If you have any doubts, call a neighbour to help.
Below are the steps to check your Neco Result 2017:
Get a NECO SSCE Results Scratch card(It's like N500)
Go to the neco result website – mynecoexams.com/results/
Choose June / July from the list of Exam types
Enter your PIN in the space provided (the PIN is at the back of the scratch card)
Enter your Exam number (Then confirm the Exam number again)
Finally, Click on the Check My Result Button, And your result should be on your screen now.
NECO SSCE Results Scratch Cards
Please note the NECO SSCE Results checking scratch card is required to check all NECO Results. And  the maximum numbers of time a single card can be used to check a particular NECO Result is 5 times. These cards are gotten at NECO offices nationwide.
2017 NECO SSCE RESULTS PRESS RELEASE
The National Examinations Council (NECO), on thursday released the June/July 2017 Senior Secondary Schools results.
Registrar of the council, Prof. Charles Uwakwe, announced the result at the NECO headquarters in Minna, Niger State capital.
He said 745,053 candidates, representing  70.85 percent of the 1,051,472 that sat for the examinations got at least five credits, including Mathematics and English Language. | source
Sample of How to Check 2017 NECO Results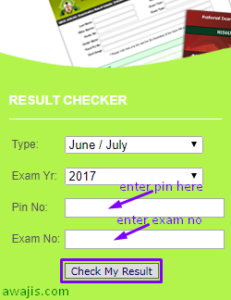 READ: Latest NECO News Here