Osun State University School Fees For Returning Students is now available online. Kindly Check out UNIOSUN school fees Here.
This is to inform the general public that the management of Osun State University (UNIOSUN) has released the payable school fees for returning students in 2017/18 academic session.
Concerned candidates are to see below for comprehensive breakdown of the Osun State University school fees for 2017/2018 academic session.
Osun State University School fees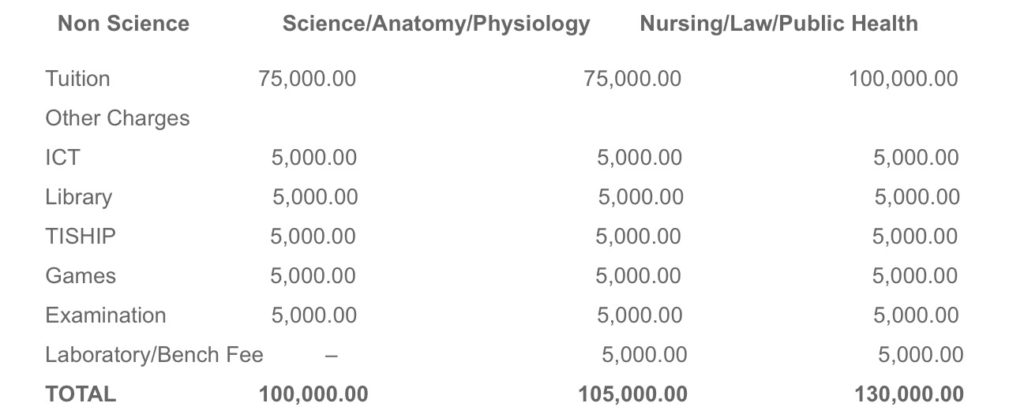 UNIOSUN have also released the payment and registration procedure for returning students. See the uniosun registration and payment procedure.
Payment and Registration Procedure
OSUN STATE UNIVERSITY SCHOOL FEES TERMS OF PAYMENT AND REGISTRATION .
The payment of school fees henceforth is by Interswitch WebPay Platform through the use of Interswitch enable Debit/ATM cards. For more information, read or download the Step-By-Step Guide on How to Use the UNIOSUN WebPAY Platform.
You can also read the WebPAY Frequently Asked Questions and Tips here for further information.
Other payments such as Portal Access and Late Registration shall also be by the use of Interswitch WebPAY Platform.
All students in the College of Law, Ifetedo Campus are required to pay their 'Accommodation Fees' of N60,000.00 (Sixty Thousand Naira Only) using the following account details:
Title of Account: Osun State University, College of Law Accommodation
Account No: 0035787687
Bank: Guaranty Trust Bank (GTB)
Note: Upon payment, students are to present the payment evidence at the College Office, Ifetedo Campus for further registration.
Note the Following
RETURNING STUDENTS ARE TO NOTE THE FOLLOWING:
Departments that might have peculiarities such as Laboratory manual, teaching practice manual, other training kits etc, would be charged separately, subject to approval by the University Management.
Add and delete of courses after registration would cost N1,000.00
Students that register before resumption, that is, before 19th November, 2017 would be given 5% rebate on making full payment.
5% increase would be added to late registration at the closure of normal registration and 1% increase would be added every two weeks.
All students of the University would be mandated to pay a sum of N5,000.00 for TSHIP charges.
Also, a lump sum of N2500 is to be paid by each student for College/Faculty/Departmental/Association Fees.
Any student that requires additional information or explanation should feel free to contact his/her College Accounts Officer.