2019/2020 JAMB Registration Procedures is available now. Check 2019 JAMB registration procedures below.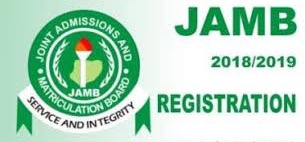 The 2019/2020 JAMB registration procedures, instructions and everything you need to know is available here. Bookmark this page and always check back often. We will continue to supply you with adequate information to help you have a stress free registration.
We want to use this medium to inform the general public that the date for the commencement of 2019/2020 JAMB registration has not been made known by the board.
This post have been created for our readers to provide them with the latest trend about 2018 JAMB registration updates .
The 2019/2020 JAMB registration will now be done through JAMB certified registration centres nationwide.
The 2019 JAMB UTME will only feature Computer Based Test – CBT (just like the previously conducted UTME).
The 2019/2020 JAMB registration should begin around December 2018 or January 2019.
 2019/2020 JAMB REGISTRATION DOCUMENTS for CANDIDATES 
In buying the JAMB scratch card, the following will be given to the student.
Syllabus for the examination in soft copy.
Guidelines on admission in soft copy,  (Brochure) showing list of Universities and available courses.
Candidates should  note that they are not supposed to make extra payment for the items listed above and writing materials and calculator will be made available to the candidate on the day of the examination.
2019/2020 JAMB REGISTRATION GENERAL INSTRUCTIONS.
1. Each candidate must have personal e-mail address and mobile phone number.
2. Each candidate is to use his/her functional and valid personal e-mail address. The system would reject at the point of registration any already used e-mail address.
3. Each candidate must personally create a JAMB profile on the JAMB portal through JAMB Mobile App available on Android, Windows and iOS platforms OR on the JAMB portal:
www.jamb.org.ng . Name. date of birth, personal e-mail address and place of origin are required to create the profile.
4. Payment for JAMB's E-PIN-registration and the recommended reading text is done at the banks and NIPOST. Banks have also agreed to make these services available at CBT centres and JAMB State Offices.
5. Each Candidate should visit any accredited CBT centre (the list of accredited CBT centres are on our website i.e. www.jamb.gov.n g) with his/her personal details, the profile and evidence of payment.
6. The CBT centre or JAMB State Office, supplies, at no extra cost, the prescribed reading text and the CD containing:
a. e-brochure showing guidelines on admission detailing list of tertiary institutions and available programmes of study.
b. Syllabus (e-syllabus) forthe examination.
c. Step by step guide on completing the application form.
d. A video messages from the Registrar of JAMB and a demo on how to use eight (8) keys for UTME examination without mouse.(For candidates with little familiarity with Computers)
7. Each Candidate is to complete the online application form by supplying the required details such as name, e-mail address, L.G.A., academic qualifications, etc.
8. At the CBT centre, Candidate's ten fingers biometric and image will be captured and uploaded.
9. O/L and/or A/L grades are to be provided by candidates. Candidates who are awaiting result should suppIv the result online as soon as the results are available on JAMB'S Portal. No recommendations from anv Institution will be considered by JAMB if the candidate has not supplied his/her O/L result on the Portal of JAMB.
10. Each Candidate is to collect his e-slip at the end of registration as evidence of registration.
11. There will be no offline registration, as all the accredited CBT centres have been empowered for real life online registration. No candidate should register at any centre other than the accredited CBT centre and JAMB State office. Any candidate who is registered outside approved centres will be identified and disqualified.
2019/2020 JAMB Registration Fee
2019/2020 JAMB Registration fee for the Unified Tertiary Matriculation Examination or Direct Entry is Five Thousand Naira (₦5,000) Candidates are also, as usual, to pay Five Hundred Naira.
(₦500) only to obtain the reading text- ' In Dependence' for UTME candidates and ' 'The Last Days at Forcados High School'' for Direct Entry Candidates.
Candidates should note that e-PINS being purchased are tied to individual profile and are not transferable.
Candidates are advised to keep as confidential their security details such as registration numbers, password/numbers of ATM Cards, e-mail addresses and E-Pins.
As it is the practice, centres are allowed to charge not more than
Seven Hundred Naira (₦700) only as registration Any centre that charges more than Seven Hundred Naira (₦700) should be reported to JAMB for appropriate sanctions.
 DATE AND VENUE.
There's no date for now . This post will be updated as soon as a date is released.
The venue of the examination will be at the candidates' chosen town during on-line registration.
JAMB 2019 GENERAL ENTRY REQUIREMENTS.
The general entry requirements approved for admission into the First Degree, National Diploma (ND), National Innovation Diploma (NID), and Nigeria Certificate in Education (NCE) programmes in Universities, other Degree-Awarding Institutions, Monotechnics, Polytechnics, Innovation Enterprise Institutes and Colleges of Education are available in the Brochure which accompanies registration materials.
Please note that a matriculated student in any university is not eligible to sit for the Unified Tertiary Matriculation Examination (UTME) except those who are transferring from foreign Universities.
2019 JAMB REGISTRATION GENERAL INFORMATION
i. The registration fee, once paid is not refundable.
ii. Registration for the Unified Tertiary Matriculation Examination (UTME) is On-line (via internet) and all applicants are advised to register by themselves. All required information must be provided.
iii. Applicants are advised to read and understand the instructions on how to complete the on-line registration before visiting any cbt centre.
iv. Candidates should study the guidelines on admission before registration.
v. Candidates who damage or lose their scratch cards before registration will have to purchase another scratch card.
vi. Multiple entries are not allowed. Candidates who register more than once will have their entire results cancelled.
vii. Candidates should note that their uploaded image or photograph will be embossed on their result slips and admission letters.
viii. Candidates can access the Board's website on
(www.jamb.org.ng) for registration using the registration scratch card. Registration can be done on the website at anytime within the stipulated registration period through any of the accredited and authorised CBT centres.
ix. Candidates are to note that irrespective of their choice of course of study or method of testing, they will also be tested on a general book. "The Last Days at Forcados High School" By A.H. Mohammed
Candidates are to note that there will be no extension of the date of registration.