JAMB direct entry form is out. Before now, we have received questions like; where can I buy JAMB direct entry form? How much is JAMB direct entry form?.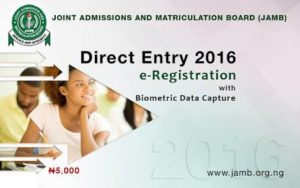 Now that JAMB direct entry form is out, we are sure that questions like;
Where can I Obtain JAMB direct entry form? Or when will JAMB direct entry registration close?
Now that we know all your major questions, we will try our best to address it in this post. We will also help you answer any question related to JAMB direct entry through the comment section of this post. So, be free to ask.
How Much is JAMB Direct Entry Form
The Joint Admission and Matriculation Board, JAMB Direct Entry form for year 2017 is now on-sale. The price of the scratch card is N5,000. Registration can be done at various JAMB direct entry registration centres.
The official registration for JAMB Direct entry started Sunday 23rd April, 2017.
JAMB Direct Entry Form is For;
those that already possess a diploma certificate and wishes to go for a degree programme in the university.
Normally, those who gained admission into the university via direct entry will start from part 2 or 200 level in their university of choice provided they were offered admission.
See: JAMB Direct Entry Candidates to Sit for Aptitude Test.
All direct entry applicants must possess either of the diploma certificates listed below:
Cambridge A Level, B Sc, HND, ICAN, ND, NCE, OND, JUPEB and IJMB.
All the holders of the diploma certificates listed above would be admitted provided they pass the direct entry examination and possesses the institution requirements.
JAMB DIRECT ENTRY REGISTRATION REQUIREMENTS.
1 A minimum of five (5) GCE/WASCE credits at not more than two sittings with at least two Principal or Advanced level C.E. and the others.
2 Two passes at the IJMB Advanced Level Examination, Cambridge moderated Schools of Basic Studies Terminal Examination, JUPEB or Institute of Baccalaureate from recognised institutions with SSCE/GCE, NTS/NBC credits equivalent in three other subjects (SUBJECT TO UNIVERSITY REQUIREMENTS).
3 Passes in two major subjects in the NCE with S.C.E., NTC/NBC credits or equivalents in THREE other subjects (mainly for Education Courses) and ND. Education may be accepted as a third A' Level subject for those taking courses in Education.
4 Minimum of lower credit grade in National Diploma or National Innovation Diploma including the O'Level requirements.
5 Candidates are to note that they will be required to provide their JAMB registration number which they used in gaining admission to NCE, Diploma etc for Direct Entry admission.
HOW TO APPLY FOR 2017 JAMB DIRECT ENTRY.
1 Registration fee for the 2017 Direct Entry is Five Thousand Naira (₦5,000) Candidates are also, as usual, to pay Five Hundred Naira (₦500) only to obtain the reading text- ''The Last Days at Forcados High School'' for Direct Entry Candidates.
2 Candidates should note that e-PINS being purchased are tied to individual profile and are not transferable.
3 Candidates are advised to keep as confidential their security details such as registration numbers, password/numbers of ATM Cards, e-mail addresses and E-Pins.
4 Each candidate must personally create a JAMB profile on the JAMB portal through JAMB Mobile App available on Android, Windows and iOS platforms OR on the JAMB portal: www.jamb.org.ng. Name. date of birth, personal e-mail address and place of origin are required to create the profile.
5 Each Candidate is to collect his e-slip at the end of registration as evidence of registration.
6 As it is the practice, centres are allowed to charge not more than Seven Hundred Naira (₦700) only as registration Any centre that charges more than Seven Hundred Naira (₦700) should be reported to JAMB for appropriate sanctions.
JAMB DIRECT ENTRY REGISTRATION CLOSING DATE
The JAMB direct entry registration Closing Date is: Friday, 15th September 2017.