AAUA Logo – Adekunle Ajasin University, AAUA Official Logo is now available on AmasNigeria. You can view and download AAUA official Logo below.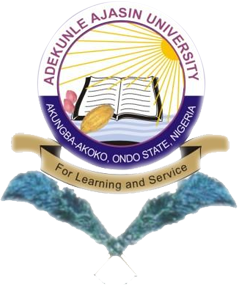 ABOUT AAUA LOGO
Any LOGO of any corporate institution worth its name is the manifest symbol of the soul of the institution. It is the cameo representation of the vision, aspiration and hope of the institution.
The symbolism of AAUA official logo has its focus on the future and dares to hope to endure throughout Time.
This is the pad upon which Adekunle Ajasin University, Akungba-Akoko, AAUA logo is launched.
Also Read: AAUA Latest Admission News
THE SYMBOLISM
The symbols of the LOGO of the University tell their story in three media: pictures, colours and text.
Observe that the centre of the LOGO is taken up by an open book – a clear reminder that the primary function of the institution relates to opening the book of knowledge to young eager and creative minds.
Rising from the East is a young sun with its brilliant, yellow rays irradiating upon the open book illuminating the knowledge that the institution aspires to open to its protégé.
Read more about AAUA official logo here