In this post, We will show you the Study Abroad Agents in Lagos. We will also be providing a guide for candidates who wish to go directly to the Study Abroad centres in Lagos.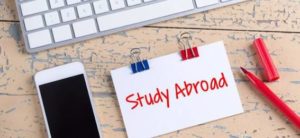 The strife for university degree in foreign countries has been on the high side in Nigeria. The reason for this increase is because foreign certificate holders especially western certificate are in most cases given preferential treatment in the areas of employee selection and remuneration in recent times.
Way back, securing foreign admission by Nigerians used to be a very big task. However, that has been made easier since the advent of education agencies in Nigeria. Below Amas Nigeria will leave phone numbers of study abroad agents in Lagos that help foreign admission seekers in Nigeria process admission.
In the past, agents who specialize in study abroad admission/ overseas traveling documents could be overlooked.  However, the case is different now because of constant refusal of visa for places like USA, UK etc.
Also Read; How to Gain Admission into 200level without JAMB in Nigeria 
Bearing in mind that there is a need for us to let you know experts that are good in handling traveling overseas and studying abroad, We at Amas Nigeria have decided to provide you with study abroad agents in Lagos.
Due to low budget or financial constraints, people feel they can prepare all the necessary documents on their own. However, this is not totally true as a lot of individuals have been denied visa due to the fact that they did not submit the right documents or answer interview questions rightly.
If you finally decide to take a bold step to contact any of the study abroad agents in Lagos, be sure that your chances of of your visa being approved is 99%. You may want to know why your journey to study abroad is almost guaranteed?
The reason is;
The agents are experts in this field and this is due to their long years of experience and good relationship with the embassies and universities abroad.
In the case of USA, Canada etc that requires one on one interview, these study abroad agents in Lagos usually go extra miles to provide tip on possible questions and how to answers the questions.
We will be updating this post with time. But before the, if there is any question you need to ask about the study abroad agents in Lagos, kindly ask using the comment section of this post.
HELPLINES ; 07032375931 or 09098985275