2017 JAMB Registration now on as JAMB releases JAMB Form.
Applications are invited from suitably qualified candidates for admission to Tertiary Institutions in Nigeria for the 2017/2018 academic session.
2.0 REGISTRATION PERIOD
The period of sale/registration for UTME is from Monday 20th March to Wednesday 19th April 2017 while registration closes on Saturday 22nd April 2017.
For DIRECT ENTRY , the application will be on sale from Sunday 23 April, 2017
Also Check: Latest JAMB news
​3.0
STEPS FOR 2017 REGISTRATION AND APPLICATION DOCUMENTS
Each candidate must have personal e-mail address and mobile phone number.
. Each candidate is to use his/her functional and valid personal e-mail address. The system would reject at the point of registration any already used e-mail address.
. Each candidate must personally create a JAMB profile on the JAMB portal through JAMB Mobile App available on Android, Windows and iOS platforms OR visit a Bank, NIPOST to create his/her JAMB profile on the JAMB portal: www.jamb.org.ng. Name, date of birth, personal e-mail address and place of origin are required to create the profile.
. Payment for JAMB's E-PIN-registration and the recommended reading text is done at the banks and NIPOST. Banks have also agreed to make these services available at CBT centres and JAMB State Offices.
Each Candidate should visit any accredited CBT centre with his/her personal details, the profile and evidence of payment.
. The CBT centre or JAMB State Office, supplies, at no extra cost, the prescribed reading text and the CD containing:
a) e-brochure showing guidelines on admission detailing list of tertiary institutions and available programmes of study.
b) Syllabus (e-syllabus) for the examination.
c) Step by step guide on completion of the application form.
d) A video messages from the Registrar of JAMB and a demo on how to use eight (8) keys for UTME examination without mouse. (For candidates with little familiarity with Computers)
7. Each Candidate is to complete the online application form by supplying the required details such as name, e-mail address, L.G.A., academic qualification, etc.
8. At the CBT centre, Candidate's ten fingers biometric and image will be captured and uploaded.
9. O/L and/or A/L grades are to be provided by candidates. Candidates who are awaiting result should supply the result online as soon as the results are available on JAMB's portal. No recommendations from any Institution will be considered by JAMB if the candidate has not supplied his/her O/L result on the portal of JAMB.
10. Each Candidate is to collect his e-slip at the end of registration as evidence of registration.
There will be no offline registration, as all the accredited CBT centres have been empowered for real life online registration.
Please ensure you download and print the JAMB 2017 UTME Registration Form Template. It will guide you in filling the online form. See the Form below :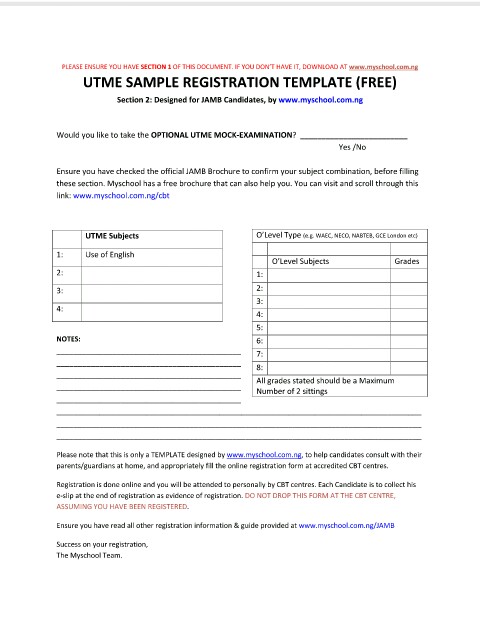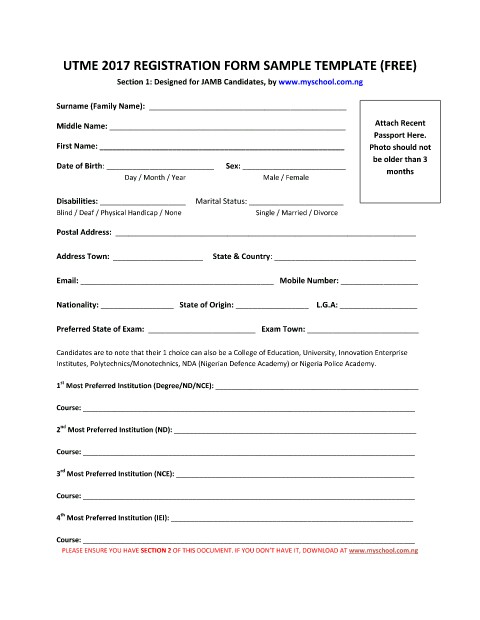 No candidate should register at any centre other than the accredited CBT centre and JAMB State office. Any candidate who is registered outside approved centres will be identified and disqualified.