Federal University Dutse Postgraduate Diploma Requirements . Check out the necessary requirements for FUD postgraduate diploma Admission.
In this post, we have provided the basic requirements for Federal University Dutse Postgraduate Diploma Programme.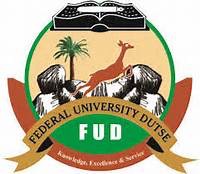 Below, we have listed the Federal University Dutse Postgraduate Diploma Requirements .
Federal University Dutse Postgraduate Diploma Requirements . 
i. First Degree in Economics or any social science discipline with a minimum of Third class division from any recognized university.
ii. First Degree in any discipline with a minimum of second class lower division plus two years cognate experience including NYSC.
iii. HND holders with classification not below lower credit or merit with at least three years working experience.
iv. Holders of any other qualification from a recognized institution of higher learning acceptable to the Senate of the Federal University Dutse.
Please note that candidate must have obtained five (5) credits in WASC, GCE, or NECO including English.
DURATION OF THE PROGRAMME
The normal duration of the PGDDS program is one year (2 semesters) to be pursued on full-time basis. A student who fail to complete the program within the stipulated one year period shall be withdrawn from the University.
However, in exceptional circumstances, application for extension to complete the program may be entertained. Such extension shall not exceed a period of 12 months.
METHOD OF APPLICATION
Candidates are required to pay a non-refundable application fee of N5,000 (five thousand naira only) into Federal University Dutse A/C No. 0041103648 at any branch of Union Bank PLC nationwide.
Upon payment, prospective applicant should follow this LINK http://pgd.fud.edu.ng to complete the online application form.
REFEREE REPORT
Candidates should download 3 copies of the referee report form HERE and forward to their referees for completion. Please note that application would not be processed unless the referee reports are available.
TRANSCRIPT
Candidates should download transcript request form HERE and submit to their former University/ Institution to forward with a copy of academic transcripts to: "The Academic Secretary, Federal University Dutse" to reach him not later than 21st October, 2014. Candidates whose transcripts are not received on or before the deadline would not have their applications processed.
SUBMISSION OF APPLICATION FORM
The online application form should be downloaded and printed in duplicate. The duplicate copies should be accompanied with two copies each, of the following:
i.Bank Payment teller / reference
ii.Bachelors Degree / HND certificate
iii. Primary and post primary schools certificates
iv. Birth Certificate or Declaration of age
v. NYSC discharge / exemption/ exclusion certificate.
vi. Marriage certificate or evidence of change of name where applicable.
vii. Two (2) recent passport photograph
The above documents should be addressed and posted or hand-delivered to :
The Academic Secretary,
Federal University Dutse,
PMB 7156, Dutse,
Dutse – Jigawa State.
Now that We have presented the Federal University Dutse Postgraduate Diploma Requirements , we implore you to ask questions through the comment section.